One system to manage all your research methodologies!
Mystery Shopping, Field Research, Phone Surveys, Retail Audit, SMS or Online Surveys
…Checker integrates all the tools you need to manage all your research projects!

MARKET RESEARCH
FIELD SURVEYS (CAPI)
Get a complete solution for your CAPI projects, that includes an offline app for data collection integrated with our cloud system. Cut data entry costs! Save time during all stages of implementation! Save the cost of printing!
EASY SURVEY SETUP AND DATA COLLECTION
Build complex, branded questionnaires and route interviewers to the right questionnaire path by using advanced structure and logic.
Allow interviewers to choose the language they want to fill the questionnaire in.
Customize the design of your questionnaires according to your needs.
Define simple or complex quotas and actions to perform even when quota is reached.

PHONE SURVEYS (CATI)
Manage your interviewers and call center activity in one platform. Collect data using either VOIP or landline.
Our platform allows you to implement phone surveys with little effort and no need for special hardware equipment.
Manage your interviewing workforce and keep track of your projects' evolution using the systems special features for call center management.
CALL CENTER MANAGEMENT
Optimize your existing call center management costs or even develop a "remote call center".
All your interviewers need is a pair of headphones and internet connection. The system's management capabilities allows you to keep track of their activity and performance.
Check for each interviewer: the status (active/inactive), first and last login, reviews per hour, average call duration, effective work, current allocations etc.
Keep track of your CATI project's progress by displaying at all times the quota status and get an overview of all your active surveys.

SMS SURVEYS
Create your SMS surveys with Checker to reach respondents directly on their mobile phone in no time and manage the survey distribution process.
Extend your project's reach by sending surveys to the respondent's mobile!
Automatize the process by connecting your client's CRM with the Checker system!
Once the survey was created you have the possibility to choose the way you send the questionnaire: as a link for smartphone users or traditional SMS chat (send and receive one by one questions and answers).
The system allows you to set the time when your respondents receive the survey and attach automatically the respondents' details from the database to the completed survey.
Set "Do not message" time frames to minimize customer annoyance.
Manage quotas and "chilling periods".
ONLINE SURVEYS
Create branded, device responsive Online Surveys and distribute them using email, social media, direct links, QR codes etc.
Conduct Online Surveys with Checker and collect data easily, with minimum costs.
Create responsive designs for both desktop or mobile interfaces and distribute your surveys in multiple ways to reach the targeted respondents!
MYSTERY SHOPPING
Manage your mystery shopping projects in a streamlined way and offer your clients added benefits like automated notifications, customized online dashboards with live reports, task management features, communication tools etc.
With Checker you get a customized solution that covers every step of your project from data collection to reporting to your end client.
SHOPPERS AND PROJECT MANAGEMENT

Assign jobs according to your needs or publicize jobs to shoppers that match your criteria. Rank shoppers according previous performance and even block certain interviewers and shoppers in specific locations based on previous jobs. Communicate constantly with your shoppers and manage shopper's payments directly in the system. Our mobile data collection app and online system use shopper job boards for easier assignments and self management.
DATA COLLECTION AND QUALITY CONTROL FEATURES
Use flexible scoring systems that can be modified anytime and special formulas to get any kind of calculations you need. Customize your questionnaire's look and brand it with your client's image.  Allow your shoppers to choose the language they fill the questionnaires in. Use display conditions and validation rules to make sure data is introduced accurately.
ADVANCED REPORTING AND DASHBOARDS
Access a wide range of predefined Reports!
Create scoring reports, statistical reports, excellence reports etc. All types of statistical models like NPS, Top-Box and special formulas can be easily achieved with no programming.
Create your own templates for Reports in Excel! Add pictures, logos, use colors, graphs or calculations you need! Add photos to your Visit Reports.
Provide client's their own personalized interface and give them access to online updated data and results, anytime, anywhere!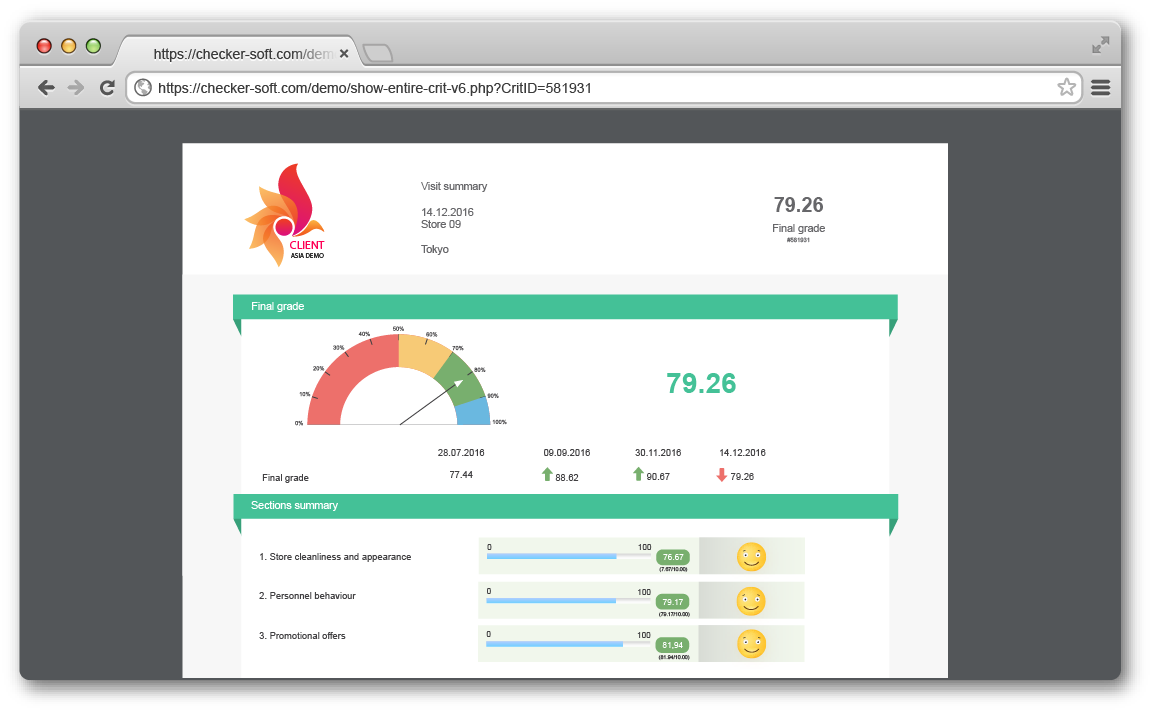 Please feel free to contact us for any inquiries package solution !!




Stay Connected
Jl. Ampera Raya No.188,
Cilandak Timur – Ps. Minggu
South Jakarta 12560.
e : info@evaluate.id
+ 62 21 7883 9870 / +62 819-0895-7171